Saying good-bye is never an easy thing, at anytime in our life.  Especially when we are saying good bye to a loved one.  This past week my Grandfather passed away suddenly.  Although he was 87 years young and we knew every day with him was a gift it is still hard to get the call that his time has come.  For me it is my last Grandparent and for my kids he was the last Great-Grandparent.  I know we are lucky to have had him for so many years but our lives already seem empty without him.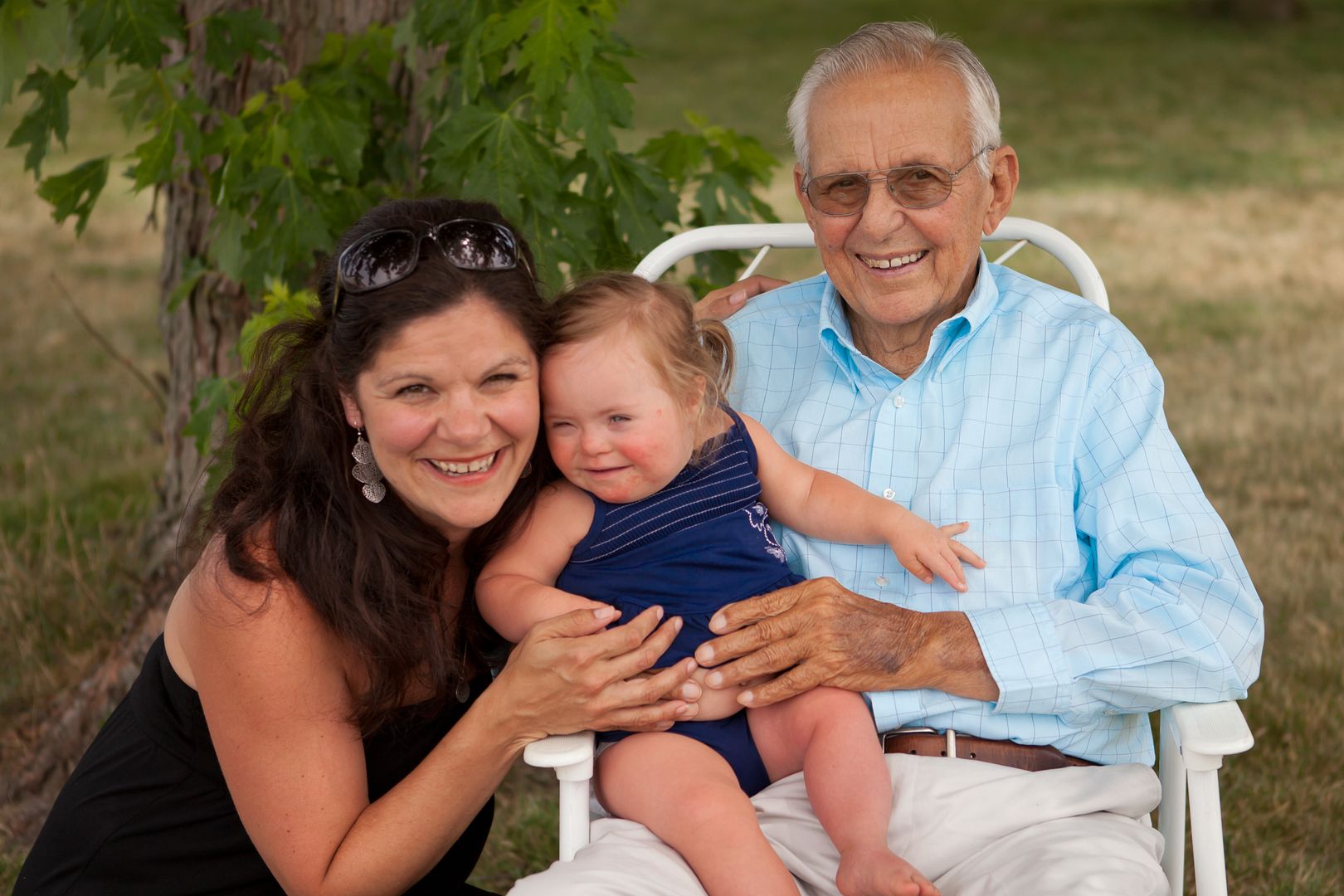 Oh my Grandpa loved him some Grace…..tears of love often in his eyes every time he spent time with her.
This is an end of a chapter in our lives.  The chapter of going to Grandma and Grandpas house.  The house on the farm, surrounded by machine sheds and corn fields.  The house we spent summers at as a kid.  The house where we gathered at for Christmas.  The house……
I miss the house already.  Today we had our last family meal together at Grandma and Grandpas house.  We sat around tables talking about where life had taken us and what our future plans were but in the back of all of our minds was this is it.  This is the last time we will pull up to this house and know that inside waiting is our family.  In a few weeks the house will probably be listed for sale and cleaned out.  Grandma and Grandpa are gone and no house sits well without someone living there.
After dinner we were in a hurry to get to the funeral so we filed out of the house one by one and jumped in our cars to head for the service.  It didn't bother me as I pulled away from the house this afternoon but as I left the funeral today I missed it.  I miss my Grandparents and I miss what their house meant.   What it stood for…..family, togetherness and love.
My sister sang a beautiful song today and 2 of my cousins gave amazing speeches all talking about what it meant to be a grandchild in my Grandparents family.  It was a privilege to be a part of such a large group.  Over the years there have been tons of ups and some downs too but my Grandparents keep everyone together.  Whether it be an unannounced visit or a planned family party you could rest assured there was something to eat, a soft couch to rest on and a huge hug waiting for you.
As I get older I do not adjust to change as well as I used to.  I like things staying the way they are and really don't look at the grass across the street as greener anymore.  I am satisfied and comfortable in the moment and with who I am.  So when a significant change comes my way it causes me to reevaluate and decide exactly how I am going to fill that void.  That loss.
As I was driving home with my family I contemplated what my next step would be and I made some decisions.  I will always have my door open.  It will be open to anyone who wants a warm meal or just good conversation.
There will be a lot more pies because who doesn't love a pie and people don't make pies like the used to.
Holidays….we are going to rock them because my grandparents did.  Not just with the lights and decorations but with the family celebrations, the togetherness and the tradition.  I am on it!
Happy Labor Day everyone….I hope you enjoy your Monday of rest, lots of coffee and family time! OXOXO