Is anyone else feeling a bit off their A game right now?  I feel like everyday I am running on the ol hampster wheel and the wheel just keeps getting faster and faster till the point where the wheel is spinning me and I am holding on for dear life!
The kids are sooo excited for their new school year to begin!  I am working ever so hard to organize this unorganized house for a smooth transition (with a crazy cold I might add).  So out with the old and in with the new!  Drawers are clean and organized! YAY!  Check!  Cleaning up the kids clothing drawers always makes me feel good.  It only happens 2 times a year, spring and fall.  When you have 6 kids it is a huge over haul!  The clothes are passed from drawer to room to drawer to room.  We do some major passing of clothing down the line and well….it is done!
We had some cool weather here in Chicago and so that of course brought the anxiety of GRACE HAS NO WINTER CLOTHES so the kids and I did some quick thrifting!  Seriously crazy what you can find and I stocked her drawers up with .50 clothing items because the Salvation Army runs a sale of all childrens clothing items .50 the week before most schools start! LOVE THAT!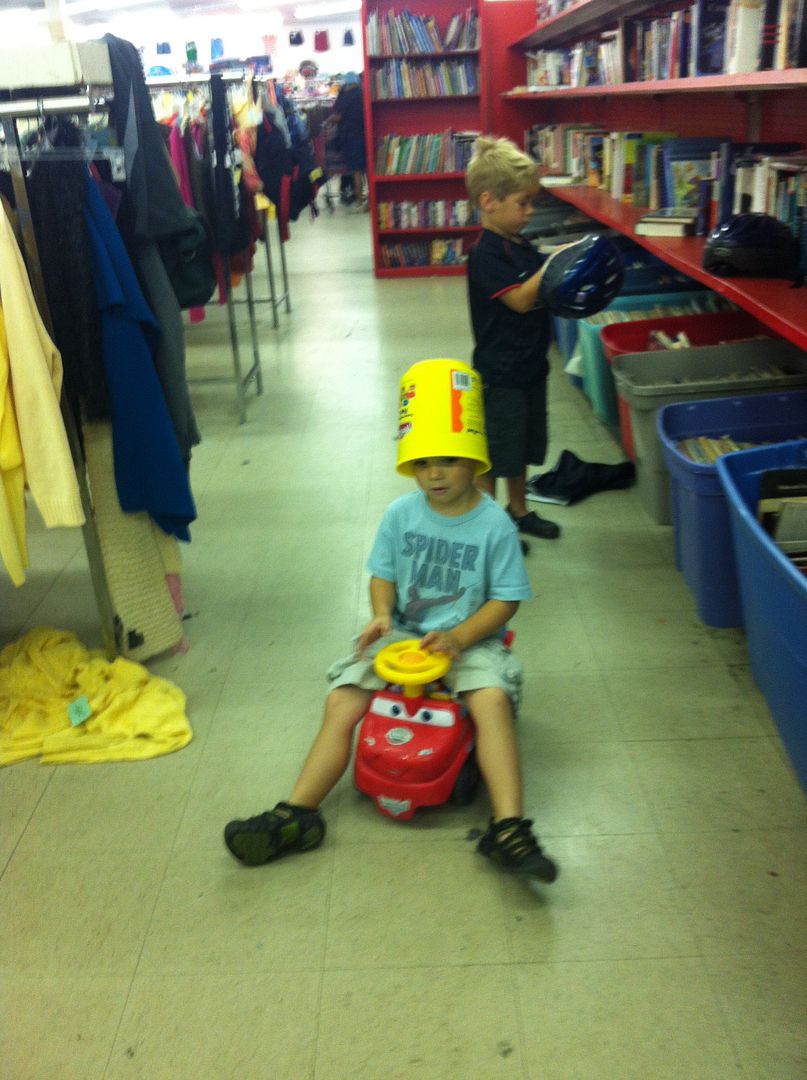 This is how I shop and keep track of my kiddies….if they wanna wear a bucket on their head and follow me in a little tykes truck I say go for it!
As I was weeding through the 10 bags of school supplies I bought yesterday I started to worry about the lunches I am going to send with Ryan.  He is gluten/dairy free and that just limits food choices!  Thankfully I have a friend on Instagram @debjord….check her out!  She makes the most amazing lunches in the coolest containers.  I am inspired!  So I ordered up some of those awesome containers and I really think if I make his lunch look as good as it tastes all will be well!  So I spent sometime last night surfing around  Pinterest looking for "pretty" gluten/dairy free lunches and WOW some of these moms are AMAZING!  Once again I bow to the internet Gods that allow the creativity of women today to spill out into cyberspace so that I….. not so creative lunch lady…. can look like a rock star! LOVE THAT!
I am proud of what we have accomplished this summer!  4 of the 6 can swim!!!  4 of the 6 can ride a bike!!!! 1 sweet girl can climb the stairs on her own!  Just the little things…..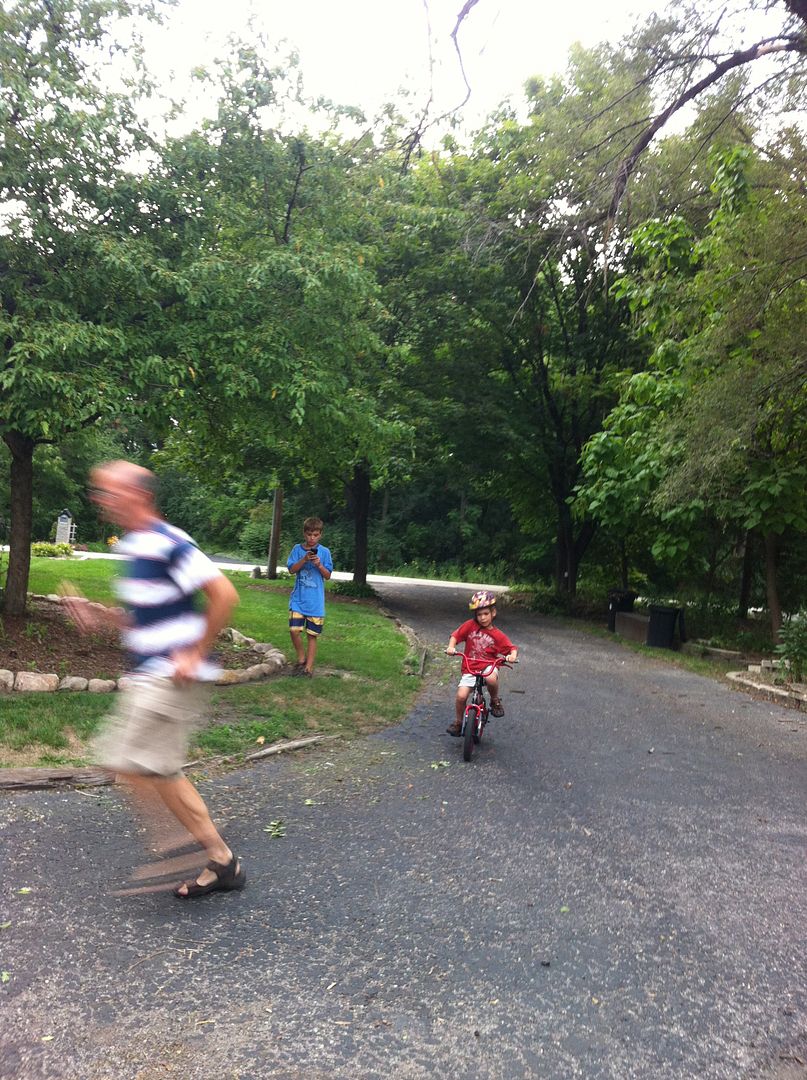 I love how my hubby looks like "Flash Gordon".
We have been so very blessed with the health of Grace.  She has remained extremely healthy and not a day goes by that we are not thankful for that.  Tomorrow Grace has her first very minor surgery on her eyes.  We are so excited for her to have better control over her beautiful eyes but sometimes that extra chromosome causes difficulty with anesthesia so if you are up early tomorrow AM just keep little Grace in your prayers.  I would so appreciate it!
A friend (Kelly Watson) posted this to Facebook today and I just loved it…..kinda just what I needed.
One day at a time is enough….don't look back and grieve the past.  Its gone….don't be troubled about the future, it has not come yet……live in the present and make it so beautiful it will be worth remembering.
Happy Hump Day everyone!  May your last days before or first days back to school be SMOOOTH!!!!!